PVDF or Polyvinylidene fluoride: a superior performance plastic for industrial valves
PVDF is an exceptional material, it has all the properties of an inert plastic such as Teflon (PTFE) with high mechanical resistance. PVDF belongs to the family of fluorinated polymers. It can be used in the field of industrial valves and, of course, in non-return valves themselves. Due to its cost, its applications tend to be reserved for particularly harsh and demanding environments.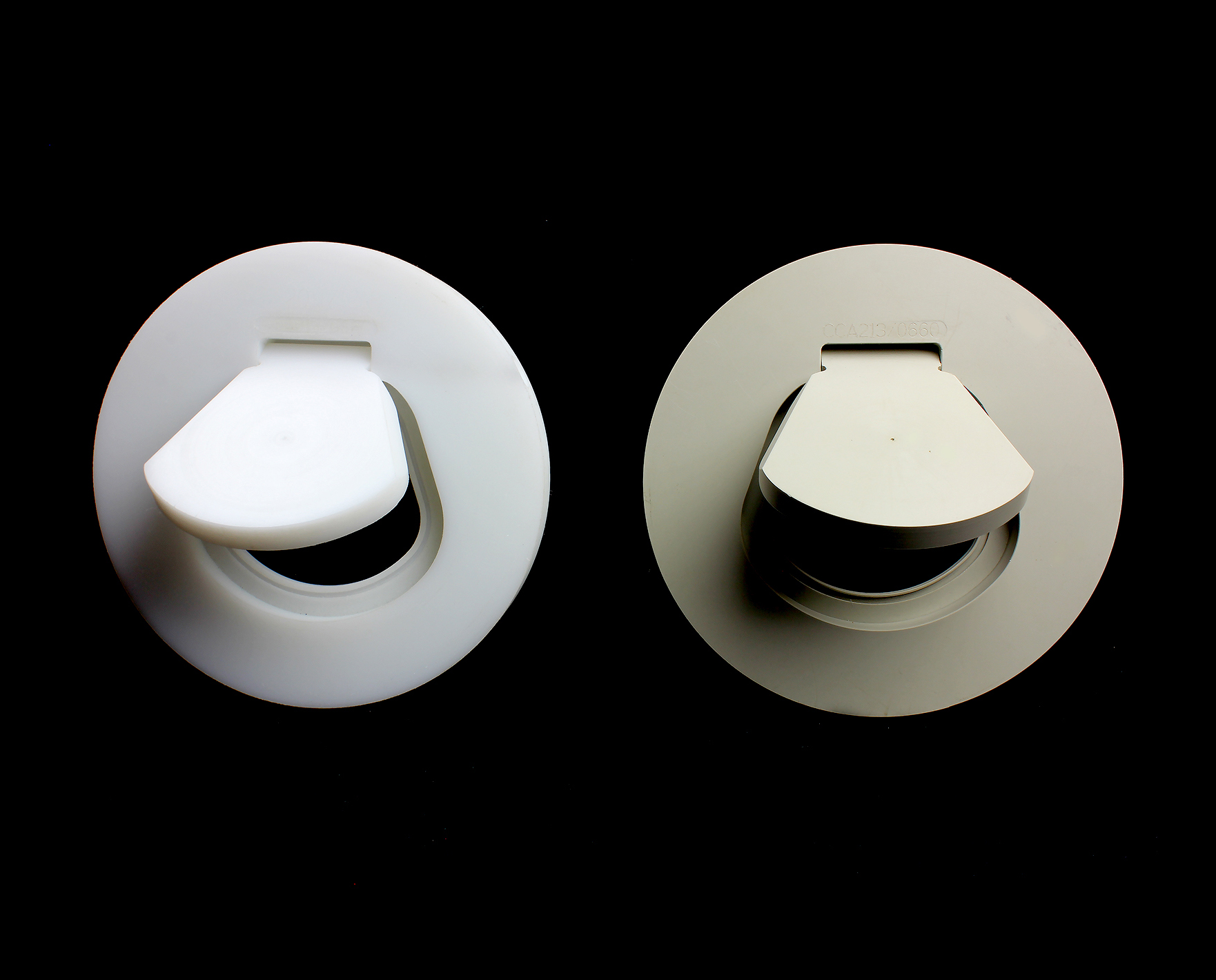 The qualities of PVDF in industrial valves:
At K2 Valve, we have selected PVDF because of its superior technical qualities, mechanical properties and chemical inertia. But PVDF offers many other advantages:
Excellent creep and fatigue resistance
Excellent thermal stability
Excellent radiation resistance
Often used as an insulation or protective coat in chemical applications
Resistance to UV rays (low ageing)
Low dielectric constant (insulation)
Operating temperature from -20°C to +130°C
Design and manufacturing of the PVDF used for swing check valves:
Because of its high purity, PVDF has become the leading plastic in industrial piping and valves. A member of the thermoplastic fluoropolymer family, the best known of which is PTFE or Teflon, it has a semi-crystalline structure containing fluorine atoms, making it more stable than its cousin PVC.
PVDF is produced by polymerization, emulsion or suspension. Thanks to major technological advancements in polymerization techniques, PVDF is nowadays manufactured with high purity. This material is particularly appreciated because it combines the inertia of Teflon with a strength comparable to that of steel.
Applications of PVDF
The high purity of PVDFor polyvinylidene fluoride allows it to be classified as a pure plastic, expanding its fields of application to all ultra-demanding advanced technologies, such as medical, pharmaceutical, cosmetic and also in the semiconductor industry. It also remains the most sought-after plastic in the chemical, nuclear, agri-food, and automotive industries.
Some applications of PVDF:
Pharmaceutical industry
Chemical industry
Defense industry (weapons)
Electronics industry
Seawater treatment
Mining during the final extraction phase
Technical specifications for the PVDF used in the K2 check valves:
| | |
| --- | --- |
| Characteristics | Data |
| Polymer family | Thermoplastic fluoropolymer |
| Structure | Semi-crystalline |
| Operating temperature (°C) | -30 to +140 |
| Melting temperature (°C) | +178 |
| Glass transition temperature Tg (°C) | -35 |
| pH | 0 to 12 |
| Density ρ (g/cm3) | 1,78 |
| Moisture absorption (%) | 0,04 |
| Young modulus E (MPa) | 1950 |
| Mechanical strength Re (MPa) | 55 |
| Elongation at break A% (%) | 30 |
| Dielectric constant | 7,2 |
| Flame behavior (DIN 4102) | B1 : low flammability |
| Food grade EU 10/2011 | yes |
| Food grade FDA | yes |
| Recyclable | yes |

Polyvinylidene fluoride or PVDF in check valves
PVDF applications
PVDF is mainly used in critical applications that require excellent chemical resistance, high purity and excellent mechanical properties.
Excellent creep and fatigue resistance
Excellent thermal stability
Excellent radiation resistance
Often used as an insulation or protective coating in chemical applications
Resistance to UV rays (low ageing)
Low dielectric constant (insulation)
Operating temperature from -20°C to +130°C