Wafer non-return valve PVDF
Reduce your electricity consumption and pressure losses with our revolutionary non-return valve in PVDF.
The standard PVDF wafer swing check valve
The PVDF wafer check valve from K2 Valve is fully machined. It integrates all of our design, manufacturing and machining knowledge.  Compared to the valves available in the market, we have completely redesigned, resized and improved the shaft sealing system.  We have incorporated a quick installation system with pins for easy positioning and mounting.
Also, by using modern calculation techniques, we have optimized the disc masses to avoid inertia. Moreover, this valve has the highest standards on the market and can be placed into an existing installation.
The PVDF wafer non-return valve with optimized flow area: the PVDF eco-valve
The K2 eco-valve in PVDF is our technological and smart solution, created with 21st-century manufacturing techniques, to the energy problems raised by the pressure drop in plastic pipes.
We agree that when a fluid is transported through a pipe, any obstacle or elbow alters the energy required for it to flow, generating pressure losses.
Most check valves were designed and manufactured many years ago. At K2 Valve we have reworked all shapes with powerful CAD/CAM design tools in order to optimize and reduce pressure drops as much as possible. The result: the valve with optimized flow area.
The standard PVDF check valve.
Excellent chemical resistance
Excellent mechanical resistance
Suitable for both specialized and demanding applications
For pressures PN10 / PN16
The PVDF non-return valve with optimized flow area. PVDF eco-valve.
Up to +50% flow area
Up to – 80% pressure loss.
+ chemical and mechanical resistance.
Available from DN 50 to DN 250 mm.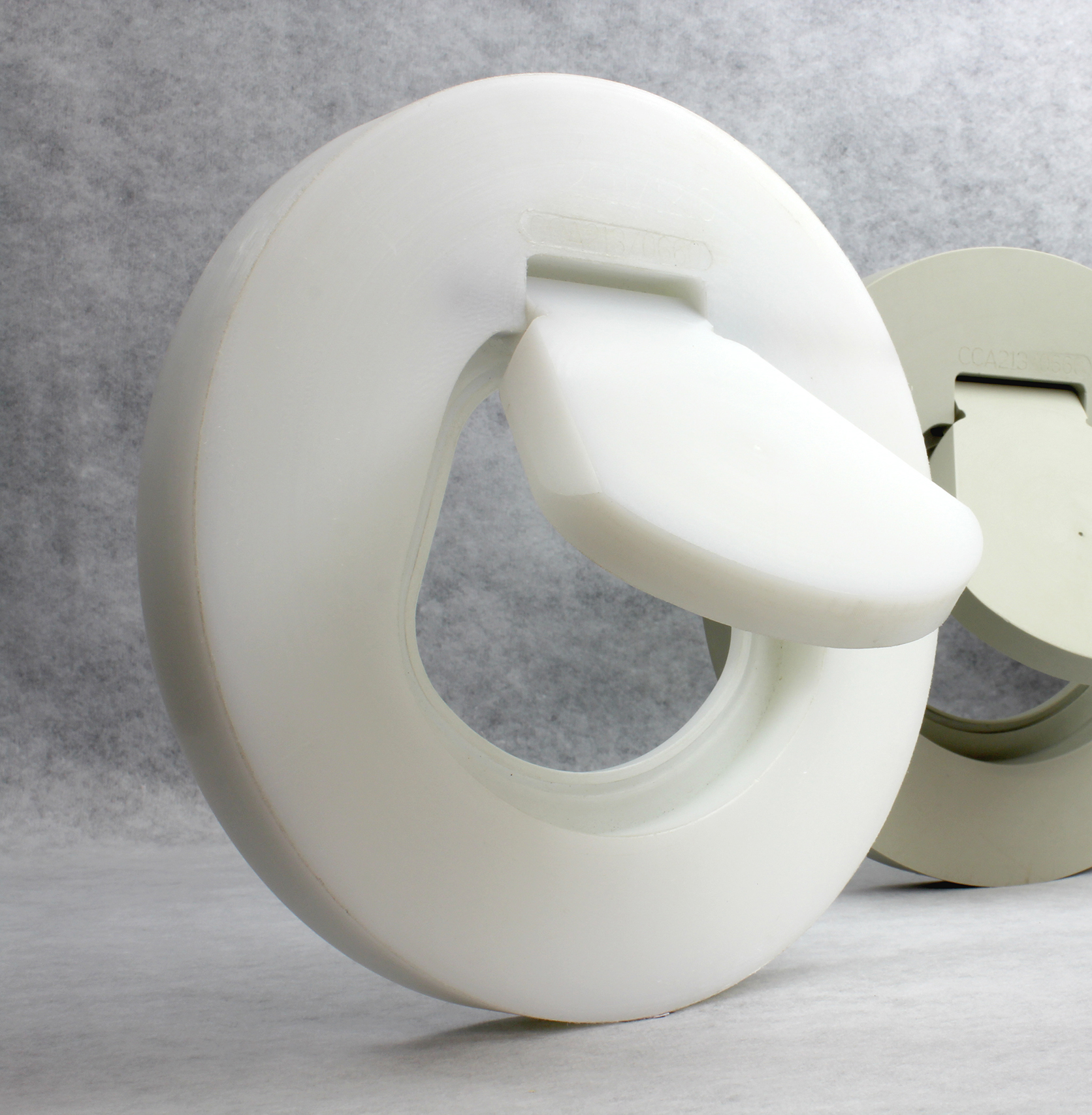 How does a PVDF non-return valve work?
The PVDF check valve is an industrial element that prevents liquid from flowing back into a pipe.
This could be a common definition of a check valve but, at K2 Valve, we have taken the thinking much further. We started by designing a standard non-return valve in different plastic materials: PVC, polypropylene (PP), PVDF (Polyvinylidene fluoride).
Through this first investigation, we developed a range of machined plastic valves. Then we performed an analysis of the standard products and collected a set of technical data that contributed to the development of a new PVDF non-return valve.
The K2 Valve PVDF Eco-valve increases the open area by up to 70% and saves more than 80% of the pressure drop in your piping. This pressure drop,  generates an energy loss, demanding more electricity to pump the fluid through the system. Therefore: optimized flow area = energy savings.
Why choosing PVDF in a wafer swing non-return valve?
PVDF is the Rolls-Royce of plastics, it is a thermoplastic fluoropolymer with a semi-crystalline structure. As a result, this material offers high chemical resistance from pH 0 to pH 12 and a very wide operating temperature range from -30 to +140 degrees. In the field of valves, it has an incredibly high mechanical resistance.  If we also consider that PVDF is recyclable and approved for food and pharmaceutical use, we are not far from the perfect plastic product.
Naturally, such an outstanding material comes at a price, and like with many fluorinated thermoplastic polymers, the investment for PVDF is higher than that required for standard materials such as polypropylene or PVC.
The PVDF check valve is therefore reserved for applications demanding high performance, because of its price and excellent qualities.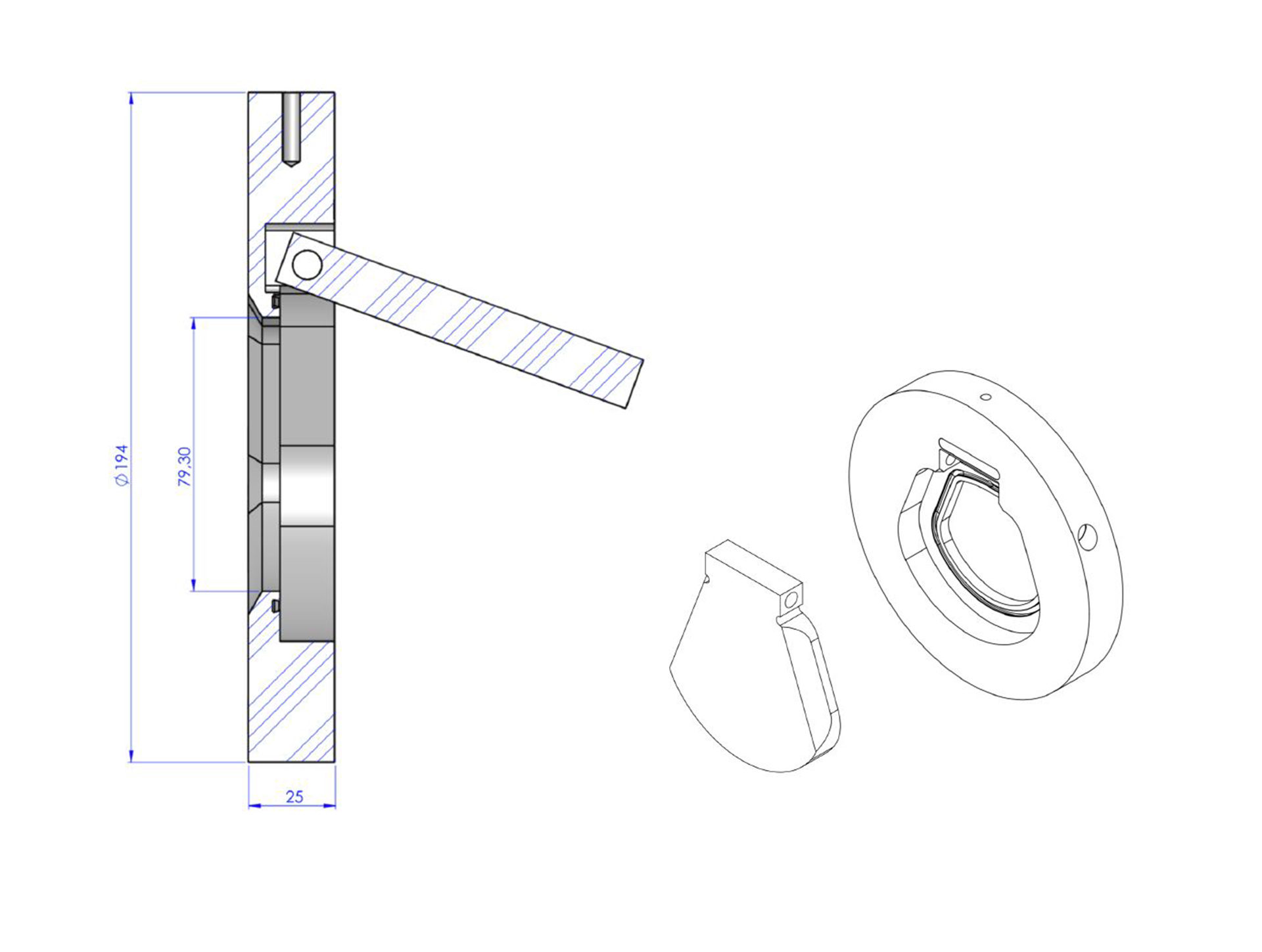 Technical elements on the PVDF non-return valve
The PVDF non-return valve is available in standard sizes from DN50 to DN350 and we can custom manufacture wafer swing check valves in larger diameters upon request.
The design of our PVDF check valve, whether it is the standard or the optimized version, has been carefully planned to be both solid and to guarantee perfect sealing. Since we are both designers and manufacturers, we can guarantee you the highest level of quality from conception to production.    For your convenience, this valve is also available in other plastic materials such as PVC or polypropylene, each of which has different chemical or mechanical resistance properties compared to PVDF.
Our engineering and design office
[gravityform id="4″ title="true" description="true"]